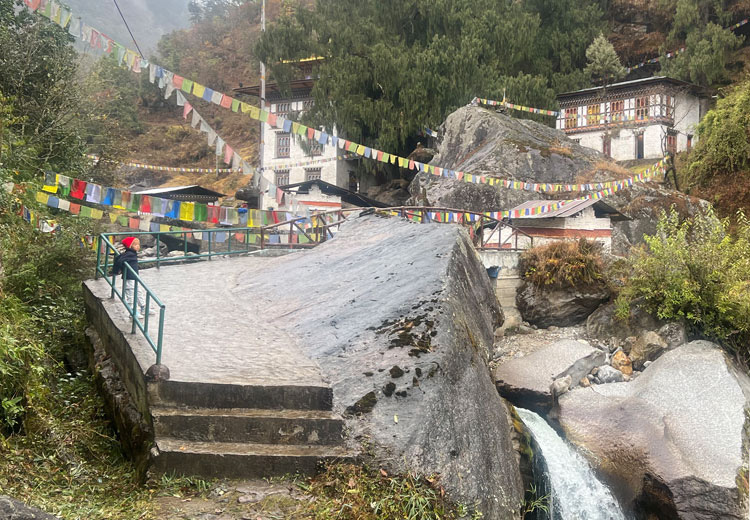 Dechenphodrang Ney, Bumdeling Gewog. alt. 2260m. The monastery is hidden in a very idyllic valley amid huge boulders of religious importance near a stream. It has a narrow waterhole in the rock near the monastery believed to be as deep as the huge Tsenden (cypress) tree nearby. The main ney is about half an hour above the monastery. It is about 4-5 hrs walk from Rigsum Gonpa and half an hour from or to the end of the farm road in Woogmanang valley. For international visitors it might be one of the most beautiful monasteries in Bhutan. There is a campsite along the trail across the Woogmanang river.
Vajrayana Buddhism was established in Tibet by Ugyen Guru Rinpoche (also known as Guru Padmasambhava), Tibetan Dharma King Trisong Detsen (ཁྲི་ Gང་ལྡེ་བཙན) and Shantarakshita (ཞི་བ་འཚ ོ), aka Khenpo Bodhisattva. The first Buddhist monastery in Tibet at Samye (བསམ་ཡས) was built by them under the chief patronage of King Trisong Detsen in the 8th century. During this time vast translation project was also undertaken translating the Buddhist scriptures from Sanskrit into ClassicalTibetan. After this major work in Tibet, Guru Rinpoche travelled to different places in Bhutan. These sacred places include Paro Taktshang, Kurtoe Singye Dzong, Bumthang Kurje, Mongar Aja Ney and Gomphu Kora, Gongza, Kharchendrak, Pemaling and Dechen Phodrang in Trashiyangtse.
Beyul (Tibetan and Dzongkha: སྦས་ཡུལ) means 'hidden valleys'. Across Bhutan, like numerous countries in the Himalayas, these hidden places of peace and refuge are blessed by Guru Padmasambhava in the 8th century. Buddhists consider them to bejust a step away from the heaven on the human realm. Dechen Phodrang in Trashiyangtse is one such wondrous Beyul. A 69-year-old Tshering Tenzin, who has been serving as a caretaker of    the temple for 30 years, says that Dechen Phodrang in Trashiyangtse befits the name of Beyul. According to him, this is different from many holy places inside 20 districts of Bhutan as only three locations visited by Guru Rinpoche have the sacred walking staffs which have grown into giant tsenden-dhongpo – the cypress trees. One of them is here. The other two are found at Kurjey Lhakhang in Bumthang and Baylangdra in Wangdue Phodrang.
Dechen Phodrang in Dzongkha/Tibetan translates to "the palace of great bliss". Until one arrives at the foot of the place, it's invisible from any direction hidden deep down in gorge between a Womanang river and a mountain stream located at about 2260 m above sea level. To travel there, one has to take about 10 KM drive northward from Yangtse town and reach the village road end. From there it's just an hour walk. If you plan to visit Rigsum Goenpa Monastery first via Bumdeling, then it is about 4-5 hours walk south east from Rigsum Goenpa. On the way travellers can come across two smaller temples – Zamu Goenpa and Pelri Goenpa. Visitors can even camp along the trail near Dechen Phodrang Goenpa.
Local and foreign visitors usually come across hundreds of temples and monasteries while traveling in the kingdom. However, visiting this hallowed corner of Bhutan will certainly make your travel an extraordinary experience. Being located far from the capital city only handful of tourists come here. This picturesque temple unlike others is uniquely located near the peaceful crystal clear stream surrounded by many enormous boulders. A huge rock at the entrance to the Ney is believed to be the 'gateway to the Copper-coloured Mountain of Glory', known as Zangdokpalri (ཟངས་ མདོག་དཔལ་རི) in Buddhism. On auspicious days devoted and lucky pilgrims can even hear the sounds of drums and cymbals from the rock. In fact, the serene and tranquil environment provides much needed peaceful time for any city-dwellers – for those who really wants a break from the mundane urban routines. This sacred place (Ney) was revealed by a Tibetan Lama named Karma Rabjor. According to the oral history, this significant holy place is a part of Pemaling – another major sacred place blessed by Guru Padmasambhava in the northern alpines of Bumdeling. Like in Bumthang Kurje and Gomphu Kora, Guru Rinpoche's body impression on the rock (left while meditating) is found here housed in the ground floor of temple. On the left side of the three-storey temple is huge cypress tree (Tsenden- shing) that was mentioned earlier. People here say that the cypress tree has grown out from Guru Rinpoche's walking stick. Ap Tshering Tenzin says that government forestry official once came to measure the size of this historically significant tree and he remembers it is about 8 meters in circumference and 93 meters high. 
Inside the temple besides the body print of Guru Rinpoche, holy spring water, double diamond thunderbolt, impression of hat, entrails of rakshasa (སིན་པོ) and many relics and stone treasures are available for visitors and pilgrims to touch and receive blessings. One such relic is the fertility stone for childless couples. Any hopeful couple can even spend the night at guesthouse beside the temple, and the caretaker humorously says, 'They can do their private business and ensure the woman is conceived'. Outside there is a huge golden tortoise rock at the right side of temple and pilgrims believe crawling through the crack will cleanse all of the defilements accrued in this life. Conspicuously, one can see a golden pair of fish on the rock nearby, self-emerged piwang (musical instrument), steps to the heaven, self-formed Avalokiteshvara (སྤྱན་ རས་གཟིགས), Dzambhala (which is equated to deity Kubera in Hinduism), scared cremation ground, hat of Guru Rinpoche, the throne of Guru, the treasure trove of whole Dzambuling (འཛམ་བུའི་གླིང་), holy spring water of thousand Buddha, self-emerged letter Om Ah Hung (ༀ་ཨཱཿ་ཧཱུྃ) and multitude of other scared rocks can been seen in the vicinity. Devoted Buddhist pilgrims believe such holy place is like a wish-fulfilling jewel: it not only prevents mortal obstacles and bestows blessings of achievement, long live and good health, but also walking to such Neys clears the white path to heaven after death. From an outer perspective, this is a hidden paradise on the earth for humans and other living beings. In the era of fast human-material encroachment, there are not many places like Dechen Phodrang left in Bhutan – which can be both a lifetime spiritual sanctuary for seekers of inner peace or just one-day hike in a travel itinerary for those who are seeking the transitory bliss of being in wilderness of the far eastern Bhutan. Whatsoever, this is really a palace of great bliss hidden in the deep mountains. Especially, seeing the mountain peaks behind Dechen Phodrang in early spring will be in your indelible memories like the scenes we encountered in fantasy of Tolkien. They can be just spectacular and outlandish for all travellers.