30 August 2020
1. The Yangtse Throm is divided into two zones (Zone I and Zone II) for the unlocking of lockdown.
   a.  Zone I: Right bank of Serkang Chu, this Zone covers the following areas:
BWS, RBP Camp, Dzongkhag Store, KHEL Office, BPC & NHDC Housing Colony and Core Town on the right bank of Serkang chu and Doegar Bam.
   b.  Zone II: Left Bank of Serkang chu till Dongtir Dzong, this Zone covers the following areas:
  Hotel Karmaling Area, TYLSS, Taxi Parking Area, Baechen, Zorig Chusum, Hospital, BOD,   NRDCL Office, RBA Transit Camp, Saw Mill and Dongtir Dzong.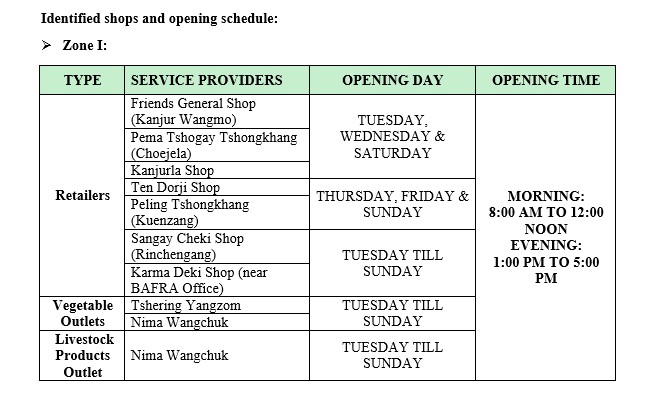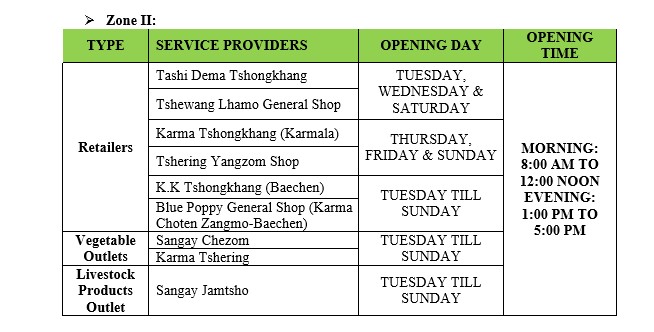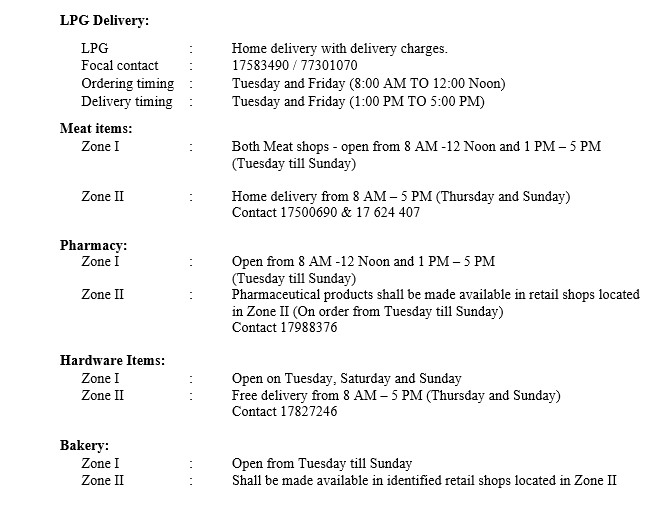 2. Doksum Throm Zone : This zone covers following areas:
     Old Town, New Town, RBP Camp, Gomphu Kora, KHEL Colony, DOR and BPC Colony.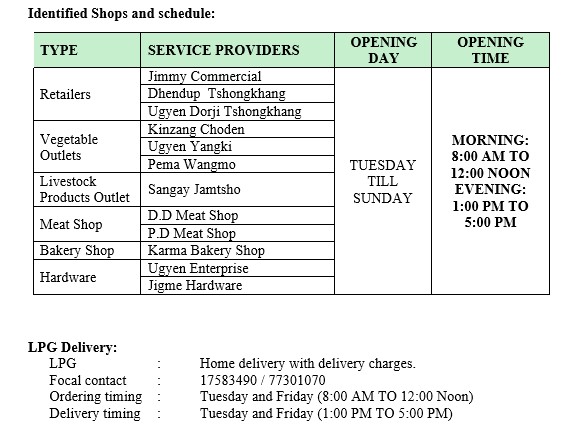 Know Your Zone Cards
1. Movement Cards:
a. Zone I - Light Green;              b. Zone II - Grey;           c. Doksum Throm Zone- Purple;    d.Special Movement-Blue;
                                            
2. The card holders in the Throm zones shall be permitted to visit the identified shops and for leisure walk only within their respective zones.
3. The permitted schedules are reflected on the movement cards.
4. One person per household shall be allowed to come out as per the given schedule on the cards.
5. Special movement cards are issued to persons like single parents and persons with disability.
6. The card holders can buy liquor products from identified shops, which may be consumed only at home.
7. Vehicle movement in the Throm Zones will be allowed only with Special Permission.   
For any enquiry please call 1247